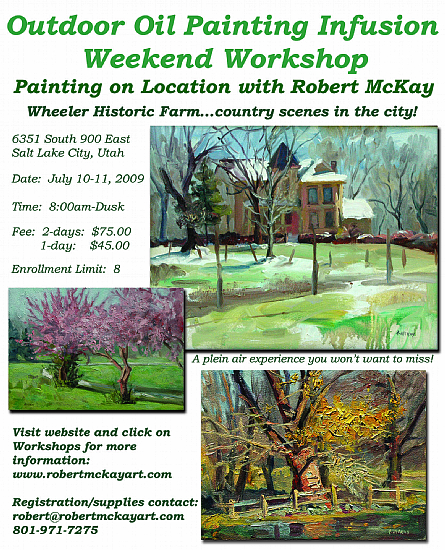 Come on out to
Wheeler Historic Farm
where we can plein air paint some nostalgic country scenes in the city. It's a great place. Animals, barns, hay wagons, plows, farmhouse, scenery... My painting dog, T-Wrex, and I love to paint there. (Does that imply he paints? :) The ducks and geese get him going a bit, but he settles down. I keep him leashed on my belt. He even knows when I say, "I'm gonna put you on my belt".
One day, "T" and I were at the farm photographing reference on the bridge, (T photographs too :) when we met a "Toto" dog, a Cairn Terrier. T is a Chinoodle - Japanese Chin/Toy Poodle mix. He looks just like Benji. It was awesome, that day, Benji met Toto! I got talking to "Toto's" owner, then got in a hurry and with my camera around my neck...,"Great Scott Batman!"...I FORGOT to get a photo of them together!!! I hope we'll meet another day. The Toto dog's name was Henry. Henry, if you read this, T would like to meet you at Wheeler Farm for a photo op. Thanks!
Back to the workshop...We'll talk about and use my painting approach, Infusion. I have students who ask, "How do you decide what to paint? There's so much out there!" We'll learn ways to reduce nature's shapes, so she'll design well on your painting surface. And there's more...value, color control, paint texture! We've got a lot to cover, so we're starting at 8:00am and going 'til dusk both days, Friday, July 10th and Saturday, July 11th. You may bring lunch and dinner or go out. Either way. It's only $75.00 for both days combined. If you can only make it one of the days, it's $45.00. Contact me for the registration form, supply list, itinerary etc... Email: robert@robertmckayart.com or phone: 801-971-7275.